Georgia Tech Football 2019 Season in Review: No.4 QB James Graham
Up today in our player season recaps is Georgia Tech's starting quarterback for the majority of the season, No.4, quarterback James Graham.
In 2019, Graham put together a quality season as a first-year starter. After playing in three games as a true freshman, Graham appeared in 11 games for the Yellow Jackets in 2019. After being the third string Graham took over as the Jackets starting quarterback against the Temple Owls and started each of the Jackets seven games of the 2019 season. He took over after both Lucas Johnson and Tobias Oliver failed to take a hold of the starting job.
Graham's best game by far in 2019 came against the Virginia Cavaliers. Against the ACC Coastal champions, Graham completed a season high 68.1% of his passes (15-of-22) for 229-yards and two touchdowns. He did throw one interception in the game but it was one of the few games this season that Graham showed the ability to be consistently accurate. In that game he also picked up 42-yards and one touchdown on the ground.
For the season, Graham's stats weren't spectacular, completing 45.1% of the passes (87-for-193) for 1,164-yards, 12 touchdowns, and seven interceptions. He finished with a quarterback rating of 109.0 and a QBR of 35.6. He also totaled 99 carries for 290-yards and three touchdowns.
Overall, James Graham wasn't efficient in his game play but he was the Jackets best option at quarterback throughout the season. When Graham was on the field, the Jackets offense moved better than it did with Lucas Johnson or Tobias Oliver. Also when considering the circumstances, it was a quality season for the first-year starter. Yes, you'd like to see higher completion percentages and such but all in all it wasn't a bad season for Graham. He showed flashes of great potential throughout the season and his development this off season will be key going forward.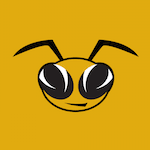 Want your voice heard? Join the Yellow Jacked Up team!
Write for us!
2020 Outlook
Graham in 2020 will return and at the very least will be in the competition to be the Jackets starting quarterback. Chances are we will see another quarterback competition this upcoming spring and leading into next fall.